Are you thinking it's time to consider a robotic palletizer?
The Robox palletizer has a compact footprint which is ready to work in short order.  It is a flexible and portable system allowing the user to streamline their end-of-line production.
Schneider Packaging has designed this palletizer as a 'drop & go' robotic system – simple to use, ready to be placed where you need it, when you need it.
This palletizer has a rapid ROI which will simplify your operations as well as reduce labour costs, injury claims and product loss.  And, it's reasonably priced and affordable.
Multiple products per pick, combined with up to 30 picks/minute, enable a high throughput. Suitable for cases, bags and trays.  Not sure what the optimum pack pattern should be?  Not to worry – the Robox will make suggestions with HMI for operator ease.  It is "PC-free"!
You can see a video of the Robox and its specifications on this website.
We are available to discuss your project and provide a palletizer quotation – simply connect with us in the manner you prefer.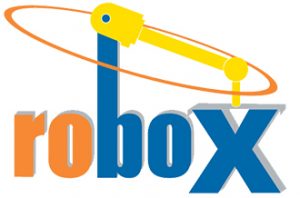 The PMR Packaging Team, Whitby, Ontario, Canada.