Do you have a pail, drum or tote that requires a filling machine?  Have a look at Crandall Filling Machinery's expertise with manufacturing fillers for liquid or viscous, foaming or non-foaming liquids for containers ranging from one pint (50 ml) to 55 gallons (220 litres).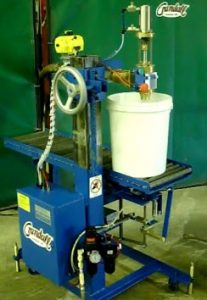 Crandall has provided filling solutions for the chemical, paint, petroleum and food industries for well over 100 years!  Whether you require a start-up solution or fully-automatic system, their fillers contribute to profitability through high accuracy, ease of operation, all at a reasonable cost of investment.  Crandall's machinery has a reputation for low maintenance and long service but, should your existing Crandall require a 'spruce-up', they can assist with a refurbishment.
You can view many of Crandall's machinery on this website including videos.
We are available to discuss your project and provide a filler quote – simply connect with us in the method you prefer.
The PMR Packaging Team, Whitby, Ontario, Canada.